Little Beetle: Jawdropping skulls of DEATHDEATHDEATH by DJ Full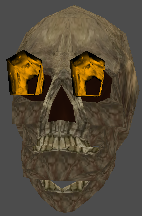 Description
This was on my drive for 3 years and didn't fit any project.
Now I found it while cleaning up the trash so you can use it.
Too bad Halloween was a week ago...
Note
Original mesh by LGG... (?) with transparent beams by Jesus C.Croft (?)
And speaking of transparency, don't put too many of these in a level...
I have no idea if it will crash if you do but I'd just be careful with that...

...meh just kidding, yolo the maximum number and see what happens...
Object Type
Objects
Object Type
Animating
/
Civilian
/
Human
/
Enemy
/
Military
/
Workers
/
Trap
Categories
Fantasy
/
Historical
/
Autumn
/
Seasons
File Format
.wad
TR Version
Tomb Raider The Last Revelation
/
Tomb Raider Classic

826 hits

04 Nov 2019

32 KB

241 dl