TRNG: TR3 & TR4 baboons - no magical death by RardRaider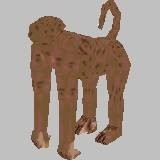 Description
2 wads containing TR3 & TR4 baboons (with TR4 sounds); no more magical death. CUST_KEEP_DEAD_ENEMIES works as expected (enabled or disabled).
Also the baboon's attack animation 23 is improved, the baboon now actually can hurt Lara. TRNG required.
Object Type
Objects
Object Type
Animal
/
Enemy

990 hits

17 Feb 2013

78 KB

334 dl